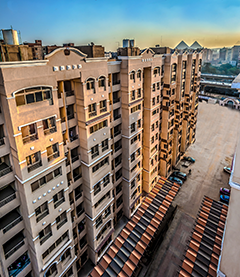 Overview:
Being among the leading entities in the construction industry, a move into real estate investment did not seem far off. Since its start in the market in 1994, the firm has undertaken a mandate to provide quality residences spanning all classes of the social economy.
Having profound foresight, we were among the first to venture into new cities such as The 6th of October City with Al Rawda compound, one of the most prominent locations of top-tier Real Estate to date. We are proud to be among the pioneers of the current new trend of real estate in Egypt.
Today we offer affordable housing with real value that makes us both competitive and responsible developers, the kind economies and use for balance. Our projects aim at building communities and creating safe living & recreational environments for our residents.
Always undertaking projects with the long-term goal of improving the living standards of the market segment at affordable costs with excellent services. We always aspire to provide the best value for our clients.

Contact Information:
Adress: Wissa Wassef St, WalyBuilding, Giza, 12311, Egypt.
Tel: (+20) (2) 3569 6927
Fax: (+02) (2) 3572 9239
E-mail:
hq@alwalygroup.com